The 92nd Academy Award nominations are being announced on Monday, and almost immediately, suspect some snubs and pleasant surprises for everyone (including me) to praise and criticise. While films like Parasite, The Irishman, Marriage Story, Once Upon a Time in Hollywood and 1917 are all guaranteed success, and other films, like Little Women, Ford v. Ferrari, Joker and Jojo Rabbit could possibly do very well, there are many other great films that will most likely be snubbed on Monday. There, I go through the nominations that most likely won't happen, but should happen.
Booksmart – Best Picture, Best Director & Best Original Screenplay
One of 2019's best films, Booksmart has still managed to feel quite underappreciated. It is quite possibly the best directed comedy of last year, in which Olivia Wilde directs the film with an wonderful zippy energy, and you can see the passion coming off the screen. The film also wouldn't work without it's wonderful script which combines some hilarious comedy and one-liners with an emotional theft underneath. It would be great to see that nominated also, but it seems unlikely (although Bridesmaids did get nominated back in 2011, so maybe).
Considering the film came out in May, it will properly be forgotten about around Awards nominations time in January, but it would be wonderful to see it nominated.
Knives Out – Best Picture, Best Director, Best Original Screenplay & Best Production Design
Rian Johnson's Knives Out was my favourite film of 2019. It is somehow clever, witty, funny and exhilarating all at once. It wouldn't work without it's fabulous script, which manages to subvert and critique whodunit/mystery tropes, while still having an emotional heart underneath. Also, much like Booksmart, the film is directed with an real energy and love. The production design is also fantastic – the set of the central Thrombey house brilliantly recreates the classic sets of the classic mystery-whodunnit films.
However, because of the Academy's aversion to genre films (including whodunnit/ mystery films), the film will probably leave completely empty-handed.
Us – Best Actress (Lupita Nyong'o) & Best Original Score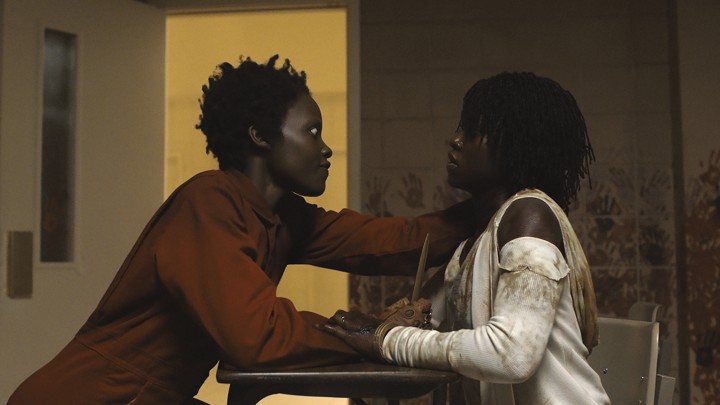 Us is one of the best horror films of last year. Much like the director, Jordan Peele's previous film, Get Out, the film largely sticks together because of the terrific central performance. Here, the already Oscar favourite Lupita Nyong'o (winning an Oscar for 12 Years a Slave in 2013) manages to brilliantly capture two distinct characters – the bitter, terrifying and vengeful Red and the scared and smart Adelaide. Also, the musical score is absolutely terrifying and manages to invoke a real suspenseful atmosphere (also, bonus points for turning Luniz's I Got 5 On It into a song that sends shivers down your spine).
However, often the Academy snubs horror films and considering Us is a much stranger, nastier and less mainstream film to Get Out, the film will probably not get any nominations. A shame, because it is one of the year's best.
Klaus – Best Animated Feature
Netflix will probably be dominating the awards nominations with films like Marriage Story and The Irishman, but another Netflix original that should be nominated is the animated film, Klaus. It's cute, sweet and really lovely and was on my top 10 list for this year. However, with the category already overflowing with wonderful animated features (like Toy Story 4, I Lost My Body, How to Train Your Dragon 3, Frozen II and the surprise Golden Globe winner, Missing Link), and considering how unfairly underrated this film was, it will probably be snubbed.
Parasite – Acting awards for all the performances
Parasite is not just one of the best films of the awards season, but one of the best films I've ever seen in my life. It's extremely exhilarating and exciting, whilst remaining a brilliant satire on class prejudice and capitalist greed. After setting the world on fire with huge critical acclaim and surprise box office success, it seems highly likely that it will win Best International Film and get nominations for Best Picture, Best Director, and probably, some technical categories.
However, unfortunately, it will be likely snubbed in it's acting categories, probably due to the large cast ensemble. However, it would be lovely to see various cast members, including Song Kang-ho for Best Actor; Choi Woo-shik or Lee Sun-kyun for Best Supporting Actor or Chang Hyae-jin, Park so-dam or Cho Yeo-jeong for Best Supporting Actress. Kang-ho is probably the most likely (although, in all likelihood, it will be in Best Supporting Actor than Best Actor), but they will all be snubbed most likely. It's a real shame because everyone is so great.
Jojo Rabbit – Best Supporting Actress (Scarlett Johansson)
Don't let anyone tell you otherwise because Jojo Rabbit is utterly wonderful – it's hilarious and heartfelt and just great. Despite the divisive consensus by critics (which I don't happen to agree with), it hasn't ruined it's Oscar hype and will probably walk away with nominations for Best Picture and Best Adapted Screenplay at the very least.
However, possibly the best aspect of the most is the mesmerising supporting performance by Scarlett Johansson. It would lovely to see her nominated, however, it's very unlikely we see actors get nominated twice in the same year and because Johansson will already be nominated for her performance in Marriage Story (which is equally as great), we could see her performance in this unfortunately snubbed.