Better Call Saul returned for another episode on Tuesday here in the UK, with the third episode of season 5, called "The Guy for This". Picking up right where the last episode left off, the episode follows our lead anti-hero, Saul Goodman (portrayed by Bob Odenkirk) getting taken off in a car by Nacho (Michael Mando), and meeting up with his boss, Lalo (Tony Dalton).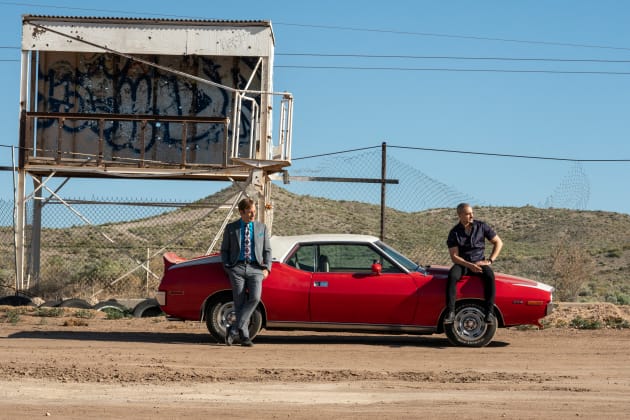 Lalo and Nacho hire Saul to be a lawyer for Domingo (who will eventually become Krazy-8) to ensure his release, and make sure that he doesn't reveal anything. Meanwhile, Kim (Rhea Seehorn) attempts to deal with a stubborn homeowner, who won't leave his house, of which Mesa Verde (who Kim works for) wants to use for land. Also, Mike (Jonathan Banks) continues to wallow in Werner's death, and Nacho tries to convince his father to retire early.
What has always been so wonderful about both Better Call Saul and Breaking Bad is it's wonderful stylistic flourishes and cinematography. In the past two episodes, we've had two separate montages – in the first episode, we had a montage of Saul giving a variety of phones for his clients and in the second, we had an opening montage of two of Saul's clients going on drinking and drug-afflicted rampage, not to mention the beautiful black and white cinematography in the first episode, showcasing Saul in the future, after the events of Breaking Bad.
The third episode is no exception, as the episode starts with a very strange and surreal sequence of a large group of ants gathering on the ice cream that Saul dropped in the last episode. The sequence is not only very metaphorical (being an allegory for Saul's slow descent into a rotten, morally grey lawyer), but is also a strange and hypnotising sequence that feels very cinematic. Better Call Saul (as well as Breaking Bad) has always been brilliant at visual storytelling, and this montage is a prime example of this.
The episode also carries on the series's development of it's key characters. Kim has a particularly interesting development in this episode as we see her lose her temper with the stubborn homeowner, Mr. Acker. In a later scene, it is very interesting to see her return to his house and apologise to him, but he continues to be hostile to her.
This has been a recurrent theme for Kim over the course of the show – that she is a good person, who always finds herself pushed to the edge because of the corrupt world around her. She is very similar to Breaking Bad's Jesse in how she is the moral compass of the show, and makes a brilliant screen partner to Bob Odenkirk's Saul, who is slowly getting more corrupt and darker. Seehorn is also really terrific in the role, giving a very subtle and subdued performance, which also serves as a great contrast to Odenkirk's lively and flamboyant performance.
It is also really fascinating to see what will happen to her, as she, unlike many of the characters is not featured in Breaking Bad – is she dead, will she start engaging in Saul's criminal activities or will and her Saul just drift apart? At the moment, it seems like any of these theories could happen, and be very plausible.
Otherwise in the episode, Saul is taken by Nacho and Lalo and they hire him to be a lawyer. Lalo gets more to do in this episode, and he is a really interesting addition to the cast this season. Much like his uncle, Hector before, he is different than the normal villains in this universe as he much more charming and charismatic, and this is really refreshing to see.
Also, it is really interesting to see the different sides to various characters in this episode – we see Saul being scared and vulnerable, Nacho being more emotional when talking with his father, and Mike being distraught and heartbroken as he continues to wallow in Werner's death. It is so great that the writing of this show continues to show different sides of all of the characters. Pretty much all of the characters in this series never feel one-note, and are just getting more interesting as the series goes on.
Not only, this, but this episode also sees the return of the iconic Breaking Bad characters, Hank Schrader (Dean Norris), as well as his partner, Gomez (Steven Michael Quezada). The return is really pleasant and amusing to watch, and ultimately quite bittersweet, considering both characters' fates in the original series. It feels as those they might not necessarily need them to appear in any more episodes (one guest appearance might be enough) but their return is pleasant enough.
This episodes continues this series success rate for the fifth season of this brilliant show, and it will hopefully go up from here. If it continues like this, it might actually end up being better than Breaking Bad. Here's looking forward to next week.
Rating: 10/10