This review has some minor spoilers about the episode.
Better Call Saul returned on Netflix on Tuesday here in the UK, and continues it's run of brilliant episodes, with the fourth episode of it's fifth season, "Namaste". Carrying from the previous episode ("The Guy for This"), Kim (Rhea Seehorn) gives Mesa Verde a offer so that Mr. Acker can keep his house, and when they refuse, she turns to Saul (Bob Odenkirk) for help.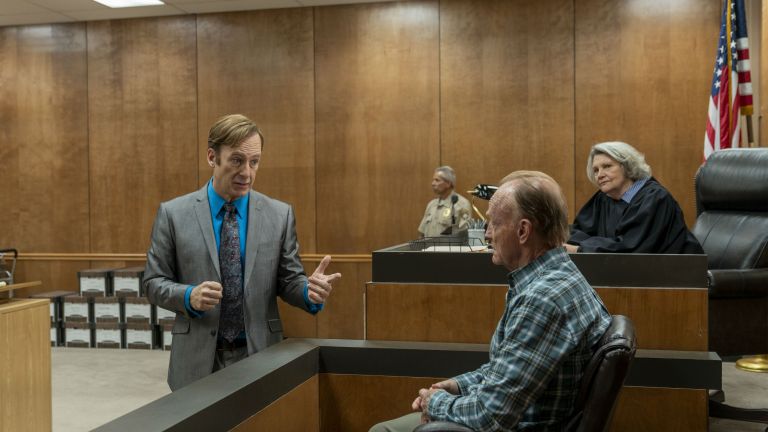 Also, this episode centres on Howard (Patrick Fabrian) having a lunch with Saul (Bob Odenkirk) and offering a promising new opportunity. Otherwise, Hank (Dean Schrader) and Gomez (Steven Michael Quezada) find the three dead drops that Domingo had told them about, with Gus (Giancarlo Esposito) watching close by. Also, Mike (Jonathan Banks) continues to mourn Werner's death, which ends in a possibly fatal interaction for him.
This episode starts with a in media res in which we see Saul going to buy a heavy object from a pawn shop, eventually settling with 3 bowling balls. This is a very humorous and entertaining moment, that was often a common feature of Breaking Bad, from the iconic pink teddy bear to the moment Walt goes back to his dilapidated house to collect a vial of ricin.
However, it hasn't been used quite as much in Better Call Saul, and it's shame as they are always effective. The use of the flash-forward gives us a way to invest in the episode, always guessing when, where and how this takes place. Also, they use a brilliant and upbeat piece of music when they eventually revisit it, which makes for really satisfying viewing.
The episode also sees the return of Howard Hamlin, brilliantly played by Patrick Fabian. This is the first time we have seen him this season, and it was great to see him back. He has had a really interesting trajectory over the series – he originally started off as Chuck (Michael McKean)'s business partner, and possibly the villain in waiting, but over time, after Chuck's breakdown and eventual death, we got to see different and more complex sides of his character.
It was really interesting to see him back in the series, as it reminds us off the earlier seasons of the show, in which he featured prominently. It reminds the audience of a time when Saul was less corrupt and more innocent. However, it does seem like after Chuck's death in season 3, the character has had less agency and been used less frequently, and it does beg the question of what will happen to the character as we reach the definite end of the series. It would be a shame if the character just fizzed out and was never seen again, as he seems like too good of a character for that.
Another brilliant moment in this episode was involving Gus, and how he awaited to hear news about whether Hank and Gomez have discovered the dead drops. He does this by stalling his colleague, Lyle numerous times, so he could stay longer. The moment is directed with a palpable tension, and feels reminiscent of some of Breaking Bad's most thrilling and tense sequences. Also, Lyle is such a terrific minor character that feels like won't get sufficient development now. Maybe another spin-off for him? Better Call Lyle?
Kim and Saul's story also continues to be really interesting in this episode. Their relationship is a fascinating and ever-evolving element to the show. This episode shows Kim attempting to use Saul as a lawyer to defend Mr. Acker, going against her company, Mesa Verde's wishes. This is a very promising plot point that could spell a very interesting future for both Kim and Saul. Could this is the moment where Kim breaks bad, and ends up on Saul's corrupt side? Could this be the beginning of the end for her?
Also, Mike has some interesting moments this episode – he does feel like he had little to do in the first three episodes of the series, as they have stretched out the plot-line involving him mourning Werner's death. However, this episode ends on a very promising plot point that could be very interesting for him in the future.
Better Call Saul continues it's run of fantastic episodes this week, and although there are still 6 episodes left, this is probably the show's strongest outing yet. Hopefully the next episode, Dedicado a Max will be just as great.
Rating: 10/10