Now that many of Studio Ghibli's movies have been put on Netflix, I have made it my mission to watch the majority of them.
This Studio Ghibli film, a lot like the previous one I reviewed, Arrietty, is one of the few of them to not be directed by Hayao Miyazaki. The film in question, is directed by Hiroyuki Morita, is a non-direct and stand-alone sequel to Whisper of the Heart (1995). It centres on a teenage high school student, Haru (voiced by Chizuru Ikewaki in the original version; Anne Hathaway in the american dub), who rescues a cat from a middle of the road that was going to be run over by a truck.
She soon discovers that the cat is actually a prince called Lune (Takayuki Yamada; Andrew Bevis), and out of gratitude, Lune's father, The Cat King (Tetsuro Tanba; Tim Curry) asks her to marry Lune. She is then taken to the Cat Kingdom, and she soon starts to develop feline features. She is helped out by two cat statues that have been brought to life, Baron Humpert von Gikkingen (Yoshihiko Hakamada; Cary Elwes) and Muta (Tetsu Watanbe; Peter Boyle), who help her try to secure her freedom. The characters of Muta and Baron are both supporting characters from Whisper of the Heart, making it the first (and currently, only) Studio Ghibli production to get any kind of follow-up.
The film started off production as a very different beast – it was originally set out to be a 20-minute short film containing cats, that was requested by a Japanese theme park. After the theme park cancelled the project, it remained on the shelf for a further 3 years, until Miyazaki proposed to make it into a feature-length movie. The responsibility was given to Morita (previously an animator for the 1999 Studio Ghibli film, My Neighbours the Yamadas), who transformed it to a 20-minute short to a 75-minute feature length movie.
Despite the upgraded length, this is still shorter and more slight than usual Ghibli productions. For example, some of Ghibli's most famous productions (like Howl's Moving Castle, Princess Mononoke and Spirited Away) are big and epic and run up to (or over) 2 hours. This film is more of akin of something like My Neighbour Totoro (which runs at 90 minutes), in it's more small and intimate nature.
The film remains remarkably similar to many Ghibli productions, mainly for how the central character of Haru is a teenager (in her early to mid teens) and going through adolescence, a key characteristic of many Ghibli productions. However, I do feel as though Haru is not as interesting as she could have been. She feels a bit whiny and needy and lacking in agency. She often finds herself having to be rescued by various characters, which is a shame as many Ghibli heroines feel very tough and independent.
She also lacked the development and arc of some of the great Ghibli heroes. The script does try to flesh her out and make her more interesting in various ways. One of the key ways is going into how she can communicate with cats, a plot element that never quite works or feels properly fleshed out. In comparison to some Ghibli heroes, especially Spirited Away's Chihiro, she just pales in comparison.
However, that's not to say that the film doesn't have interesting characters. The characters from Whisper of the Heart, Muta and Baron are very interesting and entertaining. Baron is a bit of a Mary Sue – he is quite perfect, can fix any scenario and pretty much always saves Haru, however, I never really minded. Everything about his character is very well thought-out, especially his costume, and it feels as though he should as iconic as some of Ghibli's most iconic characters. Muta also has a great characterisation, and makes a good sparring partner to Haru.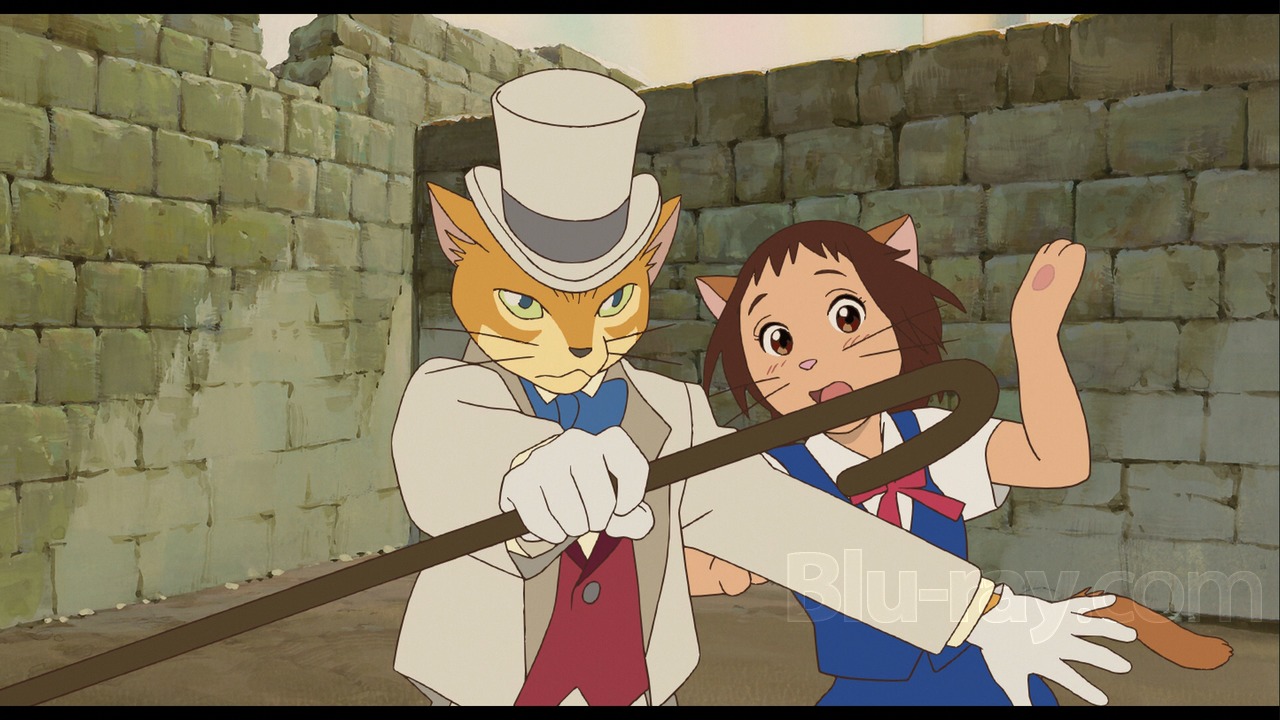 Also, like a lot of Ghibli films, the film is really great at creating a rich and wonderful world. Like the world that Chihiro escapes to in Spirited Away, the Cat kingdom that Haru escapes to feels wonderful, detailed and interesting. The animation is also so beautiful, and remains very colourful. There are lots of emphasis of blues and whites, and this feels quite different from the usual colour palette of usual Ghibli productions, feeling like Morita has created a original visual style.
At times, it does feels like you can see the film's short film origins, as sometimes the film feels a bit slight and insubstantial. It sometimes feels like the film is reaching for a plot, and it never quite settles on a interesting one. In particular, Haru's best friend, Hiromi feels quite forgotten about, and dismissed. The ending also feels a bit easily wrapped up, and needs a bit of work.
Despite it's flaws, however, like the majority of Studio Ghibli's films, The Cat Returns is still a lovely, fun and sweet treat, even if it is a little insufficient.
Rating: 6/10