Well, that's it. DisneyPlus' very first original show, and flagship programme, The Mandalorian has ended it's first season. The show that originated as a Star Wars spin-off, has received critical acclaim and a legion of fans, and has revived Star Wars back to it's former glory after two lackluster efforts with Solo and The Rise of Skywalker. The show is the best thing Star Wars has done since The Last Jedi came out (2 years ago), and the two part finale is a brilliant example of just how good it is.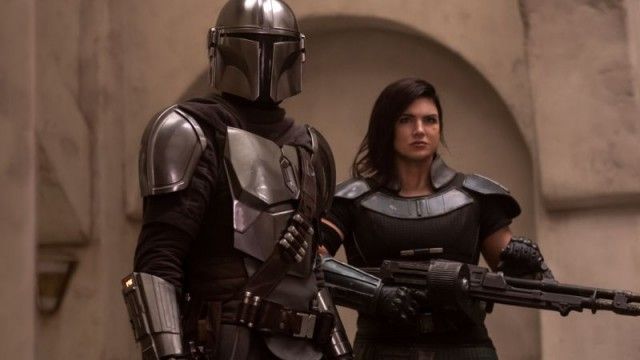 The two part finale consists of the 7th episode, "The Reckoning" and the 8th episode, "Redemption". In The Reckoning, The Mandalorian (or "Mando") (Pedro Pascal) receives a message from Greef Karga (Carl Weathers) that The Client (Werner Herzog) has become desperate to gain the Child (or Baby Yoda). The two of them, along with Mando's old friends, Cara Dune (Gina Carano) and Kuiil (Nick Nolte), create a plan to kill The Client by using a plan consisting of using Baby Yoda as bait. However, the plan is complicated by a rival pursuer of Baby Yoda, Moff Gideon (Giancarlo Esposito). In Redemption, Mando, Cara Dune, Greef Karga, Baby Yoda, along with IG-11 (Taika Waititi), all attempt to run and hide to save Baby Yoda from Gideon and his legion of storm troopers.
Both of these episodes are very much connected, and feel like a two-parter. This is a fairly different rhythm from the rest of the series, as it has mainly been all stand-alone episodes. The first 3 episodes were all quite connected, but still felt like separate entities, while the next 3 episodes were very much independent adventures, all of which had a loose story arc of Baby Yoda and his origins. It seems like the show is taking the template of classic shows, like Buffy, The X-Files and 2000s reboot of Doctor Who in how they are doing separate episodes, with a loose story arc, which comes to it's conclusion in its finale.
The Reckoning sees a return to many characters that have appeared throughout the season. This is a nice rhythm for the series, as it ultimately just contains two main characters in Mando and Baby Yoda, but a conveyor belt of recurring characters. In this episode, we see the return of Cara Dune, Greef Karga and Kuiil, all of which are interesting and engaging characters. In particular, Kuiil is a really fun character, who acts as a fun foil to our lead character. I do wish, however, that Karga was given a little better arc. It was interesting to see him be a good guy in this episode, but I just wish that he's been given more a well thought-out character arc.
IG-11's role in this episode was also very interesting. IG-11, voiced writer-director Taika Waititi (who also directs the next episode), was a droid who appeared in the show's first episode, in which he was a killing droid and bounty hunter. In this episode, Kuiil has re-programmed him to become a nurse droid, who looks after Baby Yoda. This is a very interesting competent, and it was great to see a character who could of easily been written out be revived.
This episode also introduced to Moff Gideon, who looks set to be the show's next big villain. The character is portrayed by Giancarlo Esposito, who is well known for his role as the villain, Gus Fring in the television shows, Breaking Bad (2008-2013), most recently appearing in the fifth season of Better Call Saul (2015-present), just last month. It's no wonder Gus Fring is often called one of best villains of all time, as here, Esposito injects his character with a real menace and peril that other villains lack. It also refreshing to see Esposito performing loudly as Gus is often known for being a soft-spoken and quiet villain.
The end of this episode is also really effective. Without spoiling too much of what happens, the ending is quite a bleak affair that does not suggest a happy ending for the finale. This is very reminiscent of the ending to Empire Strikes Back, in how it has offers a bleak view of the future. It's also very brave that they do this, and having watched the finale, they stick to it, and don't reverse it. The ending shot is also really well-shot, and has some really nice cinematography. Ending brilliantly, this leads us to the next episode, Redemption.
Redemption is a really efficient finale, that ties up all the loose ends from the series. The episode starts off really great, in which we see focus on who stormtroopers, who have kidnapped Baby Yoda. The two of them are voiced by the actors, Jason Sudeikis and Adam Pally, two cameo appearances that never proves irritating or unnecessary. The scene is very funny, and entertaining, but still very squirm-inducing as both characters violently punch Baby Yoda.
The next scene is particularly great, as, after IG-11 rescues Baby Yoda, we see him ride as across the desert with him in tow. This is really entertaining scene that will excite any viewer, no matter how old or young. A real highlight is this episode is how it's directed – the directer, Waititi directs the episode with a real excitement and passion, and feels like one of the liveliest episodes of the series to date. Waititi is a really mercurial filmmaker, and he can do a variety of different projects, from blockbuster films (including Thor: Ragnarok, Star Wars) to passion projects (Jojo Rabbit, Hunt for the Wilderpeople, What We Do in the Shadows), and here, he shows us that he can really direct action very well.
The action comes to a head about half way through the episode, which is a big battle between the characters. During this scene, Mando gets hurt, and in retaliation, IG-11 attempts to help him but must remove his helmet. This is the first we have seen Mando without his helmet on for the whole series, and this is such a cathartic moment, as we have been waiting the whole series for him to do to that. It is a very ballsy move for them to withhold showing his face for 7 whole episodes, but doing this, really informs you a lot about his character and just how secretive he is.
The action slightly peaks here at this point of the episode, and this would be my only complaint with the episode – is that the episode struggles to be as quite as good as this towards the end of the episode. The episode slightly peaks halfway through, and struggles to get it back. That being said, there are still a lot of great moments that occur towards the end.
This includes when another recurring character throughout the series, The Armorer (Emily Swallow) returns, and in a brilliantly performed and directed moment, The Armorer takes on and kills about 7 stormtroopers. She has not appeared that much in the series, but the episode really shines whenever she appears, and I can't wait to see where they take her character in season 2. Also, IG-11 continues to have some really great moments in this episode. He has a whole, closed arc in this episode, and it's great to see a character get closure in this series.
As the episode (and series) wraps up, the film leaves us on some cliffhangers and closed endings. Mando and Baby Yoda get a fairly happy ending, and we can assume that some still living characters are going to return also. Also, Moff Gideon gets a really fun cliff-hanger, which is very exciting, and can only spell exciting things for the next season.
The episode, and by extension, the series, has some a good mixture between giving some closure, killing off some characters (and hopefully, keeping them dead), and some open-ended cliffhangers. I, personally, can't wait to see where the series will go for the next season, which will hopefully come out in October. Hopefully, it will be just as good.