If you haven't heard, The Mandalorian ended it's first season last week (if time still has any meaning to you anymore). And, with the series proving a huge success, receiving critical acclaim and big ratings, the series feels like a hugely successful revival to franchise. Now, with the franchise announcing a load of new TV shows in production, it seems like the future of Star Wars is television. And I'm here to tell you why that's a good thing.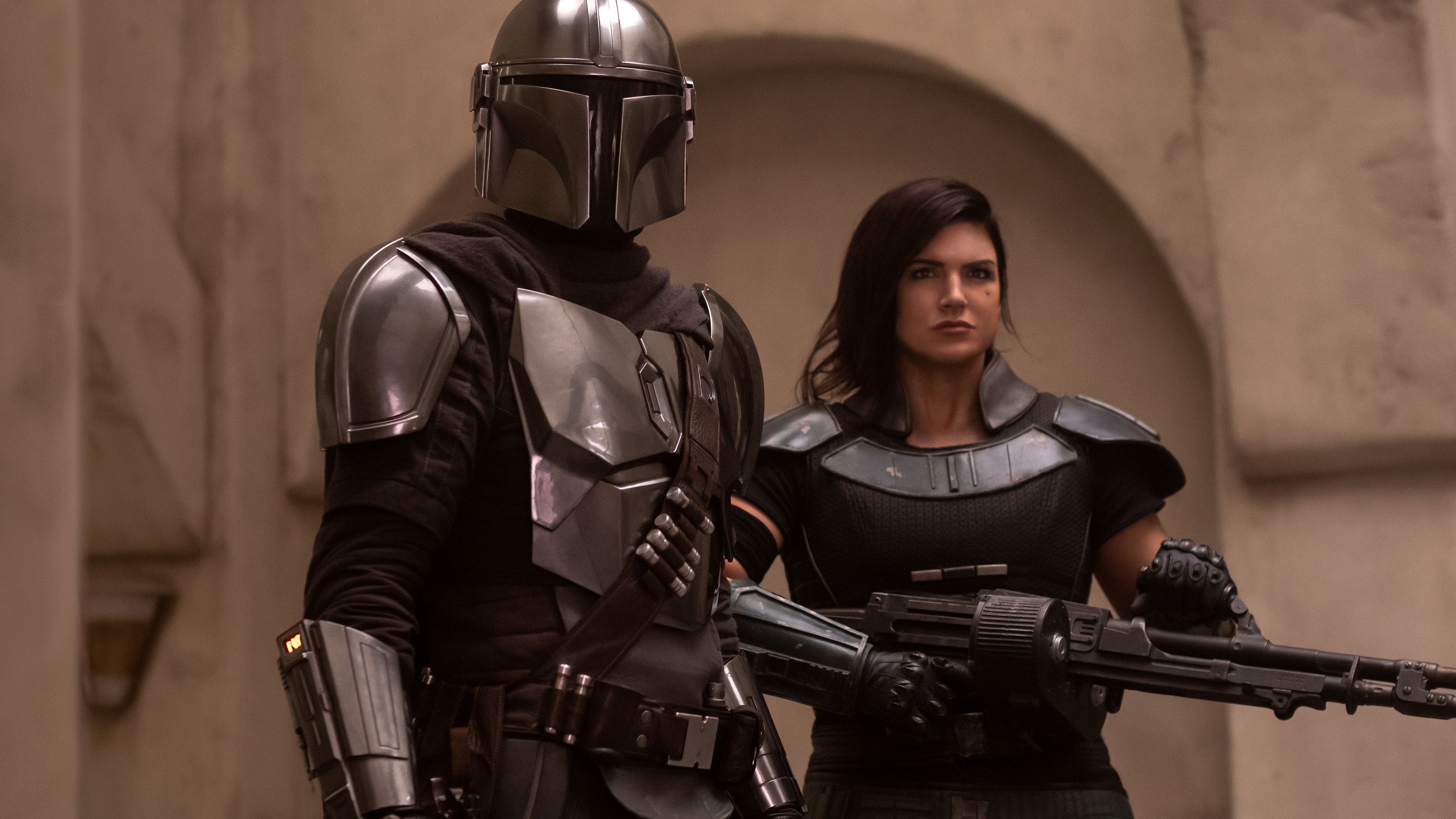 From around 2014/2015, LucasFilm has been trying really hard to revive Star Wars as a franchise. It had been 9 years since the last Star Wars film, where the prequel trilogy ended with Revenge of the Sith. And, although, the prequel trilogy most definitely has it's fans, the films are often cited as huge disappointments. So when fans found out a new trilogy would be happening, they were apprehensive. However, with the return of original trilogy actors (Harrison Ford, Carrie Fisher, and co.) and a load of talent behind the camera (JJ Abrams as director, Kathleen Kennedy as producer and Lawrence Kasdan as writer), it seemed like fans might of started to come around to the prospect of a new trilogy.
And then, The Force Awakens happened. It was one of those movies that gained a huge amount of hype and buzz, not seen like by any film before – except maybe, well, The Phantom Menace. And, for the most part, The Force Awakens was a huge success – critics and fans were all very positive and called it the best Star Wars film in 35 years (since The Empire Strikes Back). After a lot of uncertainty about this franchise, it seems like finally the franchise was back in safe, reliant hands.
This new-found success pretty much continued for the next year. Star Wars released the spin-off, Rogue One, taking place in the same universe, but still completely unconnected to the current trilogy. And, although the film is not without it's naysayers, the film was also pretty much a big success with critics and audiences. This soon gave LucasFilm and Kennedy the confidence to do a variety of Anthology films, a prospect that could continue long beyond this trilogy ends. Everything was looking rosey for Star Wars, and every-one couldn't wait to see where the franchise went.
But, then, The Last Jedi happened. Now, before you jump down my throat, I, myself, am a huge fan of the film, but saying that it was hugely divisive amongst fans would be an understatement. Written and directed by Rian Johnson, someone who has made a name for himself by subverting and playing with genre and form, the film did not come across a normal, paint-by-numbers Star Wars film, but rather a film that subverted Star Wars tropes, and by extension, space opera tropes in general.
Fans were very divisive about this, questioning what the real point of this was, and complaining about Johnson effectively abandoning a lot of plot points that Abrams and co set up in Force Awakens, including Rey's heritage and the significance of Snoke's character. The film was an experiment, and as much as I am a big fan of the film, it was a big diversion from the story they were telling in Force Awakens. But what did the studio expect from Johnson? He was obviously not going to do the thing that we expected. And not only that, the studio let him. If this was the MCU (the Marvel Cinematic Universe), they would of made sure that a filmmaker feels like he or she has the freedom they deserve, whilst telling an story related to the overall story.
In one movie, it looked like the franchise was in not so safe hands (and just to clarify, I mean the studio and Kennedy as producer, not Johnson). Not only that, but there many things going around the franchise that caused behind-the-scene trouble – including Carrie Fisher's untimely death and the departures of many directors from numerous different projects, including Josh Trank (from an untitled spin-off), Colin Trevorrow (from Episode 9) and Chris Lord and Phil Miller (from the forthcoming spin-off, Solo).
This only got worse with the release of Solo. The film had a odd production, in which half of it was filmed by Lord and Miller, and the rest of it was finished by Ron Howard. The end result was fine, but just fine, and lacking in any of the same magic of the previous 3 movies. And, not to mention, because with the film's lukewarm reviews, behind the scenes trouble, and short time between releases (only 5 months), the film was not a success, and the only film from the franchise to become a box office failure.
This was also very true of The Rise of Skywalker. Now with Fisher gone (who was apparently meant to have a big role in the film), and with Trevarrow now left and Abrams stepping back in, the film underwent a lot of changes and a script re-write. Again, like Solo, the film itself was fine, but just fine. And it felt disappointing that this was the fate that befell the conclusion of a trilogy that showed so much promise with it's first two movies.
However, since then, the franchise has truly bounced back with the release of The Mandalorian, a TV series that was broadcast on DisneyPlus. Scoring high on both IMDb and Rotten Tomatoes, the series has been received very well by fans and critics. It has also scored huge ratings, and has been cited as one of the reasons for DisneyPlus's huge success.
One of the reasons for this could be because, television is just the right home for Star Wars. One of the great things about television on the whole as a medium is that you can experiment. Just look at various episodes of your favourite shows (say for example: Buffy or The X Files), and the wonderful thing about them is that now and then, they can go against the norm and do something different than the normal narrative.
And that's just what Star Wars needs. Johnson is a filmmaker who makes strange, experimental movies, and there is a case that his style of film-making didn't fit in with a big Star Wars trilogy. It possibly would of been better if he had been given a episode of The Mandalorian or any episode of any of the upcoming Star Wars TV shows to write-direct, and this wouldn't of interrupted the story that the trilogy was telling.
There is also a big possibility that the prospect of doing a trilogy of big, epic movies is a slightly outdated concept. The concept of it back in 2014 was very exciting, as it gave us memories of the trilogies of 70s-80s (with the original trilogy) and 00s (with the prequel trilogy), and even more exciting when Force Awakens came out and was great. However, in this day and age when the MCU is the biggest franchise of the moment, and has a very different take to storytelling (telling a huge story but very slowly in small parts over 23 movies and 11 years), it seems like the idea of a big trilogy of hugely typed movies is something of the past.
Yes, that is why the Star Wars Anthology movies would of been a good idea, as they could be separate, stand-alone entities without going into a overall story. However, with the movie industry the way it is, it just wouldn't of worked. As shown with Solo, if the experiment fails badly, and the film becomes a flop, it would be hard to get any distributor interested in future Anthology films. However, if an experimental episode of television doesn't work and flops, it would be nothing – a blip on the radar that isn't really talked about. Take The Mandalorian, for example – most of the episodes are absolutely brilliant, but now and then, we have the odd average episode ("The Gunslinger", for example). However, because most of the show is fantastic, no-one really talks about it, or really cares.
And, this is something that could pretty much only happen now. Television has changed so much since 1977, and in the past 43 years, we have a much higher quality of writing and cinematography and a bigger budget for visual effects. Now, certain television shows really rival anything seen on film. So, maybe, this is the perfect time for Star Wars to become television orientated.
Over the next few years, we have season 2 of The Mandalorian coming out in October (and a third season in post-production), and two other TV shows in post-production involving Obi-wan Kenobi and Rogue One's Cassian Andor, respectively, as well as another untitled female-led series. It seems safe to say that the future of Star Wars is on television, and that is most definitely a good thing.