One of the most surprisingly successful Netflix originals from last year was Dead to Me, a pitch-black comedy drama, created by Liz Feldman. Now over a year after it's debut, the hit show returns for a second season. The show features the lead starring duo of Christina Applegate and Linda Cardellini, along with a supporting cast including James Marsden, Max Jenkins and Suzy Nakamura.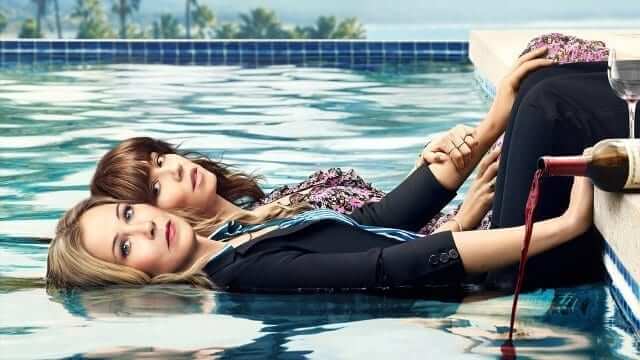 The general premise of the first season was that it centred on Jen Harding (Applegate), a suburban "soccer mom", who is struggling to deal with the sudden death of her husband, Ted, after he is killed in a hit and run by an unknown driver. She is now attempting to look after her two sons, the 17-year-old, Charlie (Sam McCarthy) and 11-year-old, Henry (Luke Roessler) without their father, while attempting to track down his killer.
Soon, Judy Hale (Cardellini) enters the picture, after she and Jen meet at a grief counselling session (Judy is grief for her miscarried baby). Despite their contrasting personalities and lifestyles, the two form a close bond, however, it is complicated over the fact that Judy and Steve are in fact responsible for Ted's death. When Jen finds out, she angrily banishes Judy from her life. However, that season ends on a cliffhanger, in which Judy discovers that, presumably after a shuffle, Jen has killed Steve.
This time, season 2 mainly centres on Jen and Judy attempting to cover up Steve's death. While Judy struggles with guilt over losing Steve, Jen covers up a deep and dark secret from the night of his death. This is pretty a repeat of the premise from the first season, but this time with the roles reversed – this time, Jen is the one who hiding a dark secret from Judy, and one that could wreck their friendship. This role reversal premise is a simple one, but an effective one, and works really well for this mostly successful second season.
The real draw of this show has been the relationship between the two leads and the lead performances of Applegate and Cardellini. Both of them are great character actors, having appeared in a number of roles, both big and small in a variety of projects, both in film and television. Applegate has a comedic force in many films and TV shows, most famously appearing the Anchorman films, but also in Bad Moms, Married… with Children and Samantha Who?. While, Cardellini has been a figure in the industry for the past 20 years, first appearing as the lead in the cult classic, Freaks and Geeks, and then going on to appear in many TV shows, including Mad Men, ER, and Bloodline, as well as have supporting turns in some big films, including Green Book, the Scooby-doo films and the Marvel Cinematic Universe.
Both parts are played to perfection by both actresses, and they are very good at playing their respective stereotypes – Jen as the brutish, tough one, and Judy as the more sweet, caring and down-to-earth one. The show's also a great vehicle for both actresses to show their range, as Applegate (an often comedic actress) gets to play a more meaty, dramatic role, while Cardellini (an mainly dramatic actress) gets a chance to play with both comedy and drama. Also, this season, it does genuinely feel like the two are very equal in their development and screen-time. Last season, it felt more of Applegate's show (she was the only one to get nominated for an Emmy and Golden Globe), but this time, it feels like she and Cardellini are very much sharing the stage, which is probably down to this new twist of how they have both now lost someone in their lives.
The relationship between the two of them is also really quite fascinating, and one of the most rich and complexly written on television. The two simultaneously need each other, and are bad for each other all at once. They have negative impacts on each lives, including how both have lost someone they love due to the other, and how they wouldn't be in many of their predicaments (including trouble with the police) if it wasn't for their friendship. However, at the same, they make each other better – through their friendship, Judy becomes more tough and willing to love herself, and not put up with the emotional abuse from her fiance and mother, while, Jen becomes a nicer and more caring figure, wanting to be a better mother figure to her children. This all creates a tension between the pair that is simultaneously caring and loving, but also, stand-offish and tense all at once, and this makes for fascinating viewing.
The pair are also very interesting for their contrasting personalities and lifestyles, and they make a very interesting odd couple-type pairing. Also, the different ways the two cope with grief are also very interesting – Jen, on one hand, stays heavily guarded, and copes with anger and violence, while, Judy, gets very emotional, and looks towards a more spiritual side of life. Feldman has stated that she wrote the series as a commentary on grief, and was influenced by how, she, herself has handled with grief through dark humour and laughter in her life. And, through Jen and Judy, Feldman explores how deep, dark, but also unexpected and weird grief can be.
Another great asset to the series is the show's writing. The writing does very much hinge on campy and ridiculous, and does feel very influenced by soap operas, or soap opera-like shows, like Desperate Housewives and Big Little Lies. It feels like every episode there is a fresh and newfangled twist, that are always very thrilling and exciting, even if sometimes, it can verge on ridiculous.
It does feels that Feldman and her writing team have smoothed some of the edges of the first season. The first season felt a little rough, and sometimes it felt like it was going to collapse in on itself at any moment, and be a victim of it's large amount of twists and ridiculousness. This season, due to focusing more on the emotional depth of Judy and Jen's relationship, as well as the great performances by Cardellini and Applegate, feels a lot smoother and well-rounded than the first season.
Despite this, however, sometimes, towards the end, the writing verges on desperate. There is a large amount of cliffhangers in the last episode that feel a little desperate to cling onto the momentum that they have managed to hold for two seasons. I do wonder with the sheer number of twists, and crazy plotting whether they will be able to sustain this show for much longer. A third season would be welcome, but they should possibly end it there, or at most in the fourth season.
This season also has a lot of new subplots that are very welcome. In this season, we see the return of Marsden, but this time as Steve's twin, Ben (I told you about the soap opera writing), who starts a relationship with Jen. Another welcome addition is Natalie Morales as Michelle, someone's whose mother is admitted to the nursing home where Judy works. She then begins a relationship with Judy in a very sweet and interesting subplot.
Overall, this season was a really pleasant continuation of the first season. Through Applegate and Cardellini's brilliant performances, and the show's bizarre yet unexpected writing, Netflix has delivered with another great original series. Bring on season 3, which will hopefully be out by next year.
Rating: 8.5/10