It seems like over the years, Netflix had made a name for themselves as producing very likable, warm, lovely if not ground-breaking original movies. There are certain exceptions to this rule (like Roma (2018) and The Irishman (2019)), but ultimately this seems to be Netflix's niche. That seems to be exactly what they have done with their newest original movie, The Half of It, a coming-of-age comedy-drama.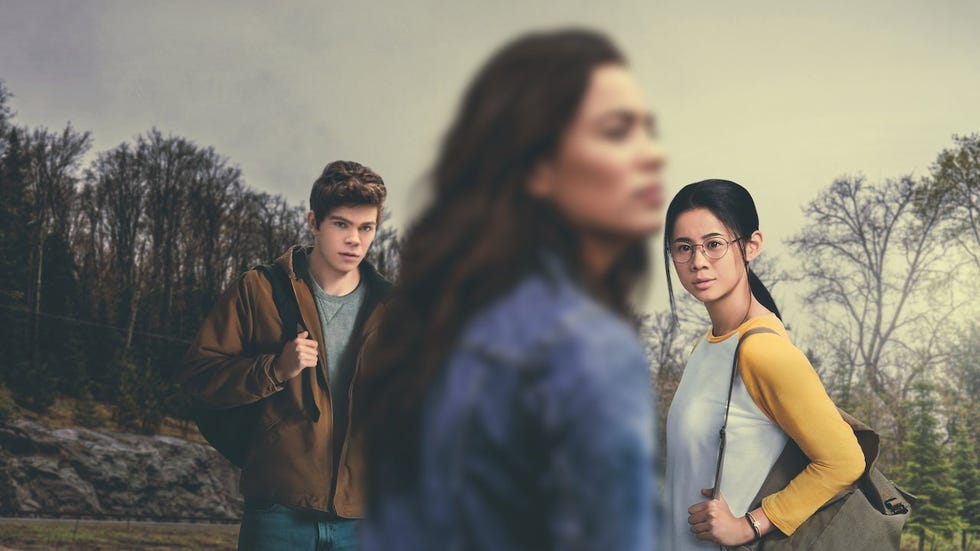 The film centres on student, Ellie Chu (Leah Lewis), a friendless teenager, who lives with her widowed father, and makes extra cash writing homework papers for her fellow students. Soon, popular football player, Paul Munsky (Daniel Diemer) asks her to write a love letter to Aster Flores (Alexxis Lemire), a girl who Ellie also happens to have a crush on. As Ellie and Paul continue this, complications arrives between the three of them, and a love triangle develops.
The film is one of the better teen movies to come out recently. The film has been inevitably compared to the 2018 teen phenomenon, To All the Boys I've Loved Before, also a teen movie and also, broadcast on Netflix. The film also has some comparisons to To All the Boys in it's sweet romance and cute humour. Also, as is always the case with teen movies, the film has been inevitably compared to the work of John Hughes. Instead of the obvious examples (like Ferris Bueller's Day Off and The Breakfast Club), however, the film feels more influenced by his 1987 underrated gem, Some Kind of Wonderful, especially in it's love triangle-based plot. Also, both of those films are unlike a lot of teen movies in how it is more melancholic and sombre, with only small bursts of subtle humour.
What is very successful about the film is the central performance by Lewis. She is a very empathetic figure, that is able to be funny, serious and charming in equal measure. Her voice is a real asset to her performance – it is deep, booming and makes her stand out. Her appearance is also really wonderful, as she looks properly "nerdy" and that she could be an outcast from the popular crowd. In this movie, Lewis has shown that she will probably have a big future ahead of her.
Despite that, however, the other main characters, Paul Munsky and Aster Flores, respectively, could of done with a little more development. The two actors (Diemer and Lemire, respectively) are perfectly fine, but the characters just could of done with a little more definition, as they end up feeling a little like one-note stereotypes.
Apart from that, however, the film is quite cute and sweet, for the most part. The plot is familiar and has been done before, but saying that it's got a spin this time with it's queer twist. It is very interesting and refreshing to see a teen film that a gay subplot, especially as it is just accepted and not discriminated by the other characters.
It's also nice to see a film with an Asian woman as a lead in a Netflix Original. The subplot of seeing her Asian father not being able to speak proper English, and tries to understand language through watching many American movies (like His Girl Friday and Casablanca) is really quite lovely, and adds a realistic edge to the film.
There is also a particular visual style that Alice Wu brings to the film. This includes how after some scenes, we see a famous quote that somehow relates to the situation. Also, the film is shot very symmetrically, and in someways, has echoes of a Wes Anderson film. This visual style adds a fun and quirky edge to the movie, and makes it stand out from the usual teen romantic comedies.
Other than that, I really loved the film's melancholic edge, and how it steered away from the regular joke-heavy teen movies. When the film tries to include more humour (around the end of the film), the end result is that it starts to feel a little out of place, and possibly a little unnecessary. However, for the most part, this makes The Half of It stick out from the crowded genre of teen coming-of-age movies.
Overall, The Half of It is a really entertaining and lighthearted coming of age movie. The film may not reinvent the wheel or anything, and doesn't feel like a revival of the genre that some folks may think it will be. But, if you are looking for a sweet, cute and fun diversion, The Half of It is definitely worth a watch.
Rating: 7/10