Some of the brand new films this month are the Guantanamo Bay legal drama, The Mauritanian; the Netflix creature feature romance movie, Love & Monsters, and the recently Best Picture nominated dramas, Sound of Metal and Minari. Check out if any of them are worth your time, right here. 
Love and Monsters: One of the many movies that is finally getting its UK release is Love and Monsters, a movie getting its international release on Netflix, having been released on Wednesday. The plot follows an apocalyptic wasteland, in which the chemical damage from the destruction of a meteor has mutated animals and insects (like ants and spiders) into gigantic and destructive monsters.
The film centres on a young man, Joel (Dylan O'Brian), who becomes separated from his girlfriend, Aimee (Jessica Henwick) when the apocalypse hits. After taking shelter underneath the ground with a group of survivors for 6 years, Joel decides to take a big risk by finding Aimee and reuniting with his lost love. And, during this tumultuous journey, Joel comes face-to-face with the monsters, and is forced to face his fears.
From the outset, Love and Monsters is a brilliantly wacky and out-there effort, playing up to many genres and homages many movies. The premise combines the post-apocalyptic roots of something like Mad Max; the young, coming-of-age romance plot stemming from a John Hughes movie, especially Sixteen Candles; the Arthropod invasion of The Mist, as well as the quirky and subversive humour of the 2009 hit, Zombieland.
The film is really good fun – the action adventure plot is filled with surprises and great humour, and there are many brilliant (recently Oscar-nominated) special effects. O'Brien is absolutely terrific in the lead role, and he gives a fun and charismatic energy to the film. The end result is a very original and creative effort, that seems like it might be the start of a new franchise, as the film sets up many sequels.
It isn't perfect – some of the supporting characters feel a little flat and underdeveloped, and the last act is a little abrupt, where they introduce a new villain out-of-nowhere that feels really unearned. However, Love and Monsters remains a really brilliant effort – a really fun piece of popcorn entertainment. (Rating: 8/10) (Available from Netflix).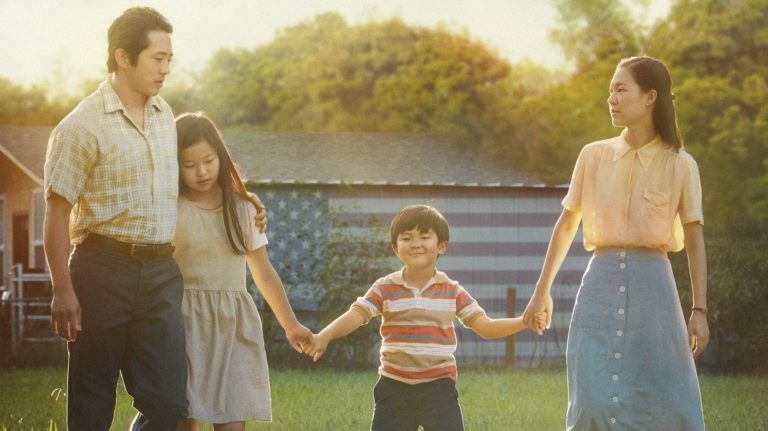 Minari: One the biggest contenders during this year's awards season has been Minari, which won the Golden Globe Award for Best Foreign Language Film and also got nominated for 6 Oscars, including Best Picture and Best Director. The film has been called "the new Parasite", being an internationally-produced film that has somehow managed to break into the mainstream.
The plot is centred around the director, Lee Isaac Chung's real life, in which a family of South Korean immigrants who move to America during the 1980s, in hopes of living out the American dream. While there, the father, Jacob (played by The Walking Dead's Steven Yeun) tries to live out his dream – owning his own vegetable patch, and selling the vegetables to make a living out of it. Meanwhile, the family deal with various problems, including their son, David (Alan Kim)'s worrying heart condition and the arrival of the maternal grandmother, Soon-ja (Youn Yuh-jung).
Unlike Parasite, Minari does not have a really intricately plotted narrative or a load of game-changing plot twists; the film instead fits into a genre of films that are really "about nothing" – we just spend time with these characters and their lives for 2 hours or so. And, for the most part, this really works. I love the pace and feel of the film, only made more effective by the brilliant direction by Chung and the film's intricate editing.
And, as you would expect – the performances really make the film. Yeun is absolutely terrific, and has echoes of classic Hollywood leading men, particularly James Dean. He completely steps out of his Walking Dead past, and should be the front-runner for the Best Actor Oscar, along with Riz Ahmed (however, both will probably lose to Chadwick Boseman). Also terrific are Youn and a 10-year-old Kim, whose beautiful grandmother-and-son relationship is one of the film's highlights, and gives the film it's offbeat and gentle humour. It's a shame, however, that the other family members, portrayed by Han Ye-ri and Noel Kate Cho, don't get half as much time to shine as Yeun, Kim and Youn do. 
It's a really interesting and charming film for the majority of it's run-time, however, I just wished it hit me with the emotion that all the best films about nothing do. It's a real sad, melancholic and arresting film that it's definitely worth your time, but it's not quite the masterpiece that some have made it out to be. Parasite it most definitely is not. Still, definitely worth checking out. (Rating: 8/10) (Available from streaming services, including Curzon Home Cinema and Amazon) 
Sound of Metal: Along with Judas and the Black Messiah, Sound of Metal has become one of the surprise contenders at this year's Oscars, nominated for 6 Academy Awards, including Best Picture and Best Actor for Riz Ahmed. Ahmed portrays Ruben, a drummer in a heavy metal band of two – along with his girlfriend, Lou (Olivia Cooke). He is soon heartbroken to discover that he has actually gone completely deaf, which soon threatens to disrupt his career, relationship and whole life.
From the outside, it looks like this film could possibly be 2020's answer to Whiplash (the 2014 Best Picture nominee that was also centred around drumming), however, you will be surprised to discover that is actually much more of a grounded and sombre effort, with director, Darius Marder painting a devastating and emotional portrayal of a young man dealing with a heart-breaking life change.
Ahmed is absolutely fantastic in the lead role, and it's wonderful to see him getting so much awards recognition. The performance really works because he plays it small and doesn't ham it up, while not being afraid to delve into some of his (very understandable) anger at his new situation. The sound mixing is also fantastic, beautifully showing us the various levels of Ruben's hearing loss. Therein lies the real strength of the film – it really manages to bring us into Ruben's perspective, and feel exactly what he is feeling.
There are some minor flaws with the film – in particular, the film's script could be improved slightly. It sometimes feels a little contrived and like there is a scene missing here and there, particularly in how others treat Ruben when he discovers his new diagnosis. Despite this, this is very strong work from Marder and remains a career highlight – if not, THE career highlight – for Ahmed. (Rating: 8/10) (Available from Amazon Prime Video).
The Mauritanian: One of the films that originally seemed like an awards contender, however, has since fizzed out is The Mauritanian. The legal drama directed by prior documentary film-maker, Kevin Macdonald (Touching the Void, Whitney, The Last King of Scotland) is centred on two defence attorneys (Jodie Foster and Shailene Woodley), who attempt to get an innocent prisoner of the Guantanamo Bay detention camp, Mohemedou Ould Slahi (Tahar Rahim) released after he was detained without any charge or trial.
The film has all the making of a "failed Oscar bait" picture – one that has some great performances, but just could have been executed a bit better. There is a definite pacing issue in this film – the film is only 2 hours long, but feels about 3 hours long. There are many scenes and story-lines that feel a little out-of-place, especially a lengthy torture sequence that is introduced far too late into the film.
However, the performances are great. Foster, in her Golden Globe-winning role, is really great, as is newcomer, Rahim, who provides a real emotional core to the film. Supporting actors, Woodley and Benedict Cumberbatch do feel slightly wasted, however, they are also perfectly fine. The film is overall, slightly mediocre, however, is overall worth watching for the brilliant lead performances. (Rating: 7/10) (Available from Amazon Prime Video)